Ten minute dance in Venice, train-themed dance in San Marino, week 2 of new works downtown, tap dance ends in Sierra Madre, contemporary ballet in Long Beach, and more SoCal dance this week.
5.    Take a peek
Catch a first look at new choreography from Kevin Williamson, Jade Charon and Julie Simon as the series Dance in Progress returns. Williamson and Charon offer longer pieces shaped during their spring residency at this venue while Simon returns, joined by the dancers of Tropicaleiza. An informal artist reception at nearby Barceito follows the performance. Downtown Dance & Movement, 1144 S. Hope St., downtown; Sun., Aug. 4, 7:30 p.m., $15.  http://downtowndancela.com.
4.    Dancing death
Closing out its 8th season, American Contemporary Ballet tackles Franz Schubert's Death and the Maiden. Performed to live music with choreography from artistic director Lincoln Jones, the dancing is followed by a reception with wine, jazz and the artists. Fashion Theater at California Market Center, 110 E. 9th St., downtown; Thurs.-Sat., Aug. 1-3 & 8-10, 8 p.m., Sun., Aug. 4 & 11, 2 & 5 p.m., $45-$105. https://www.acbdances.com/.
3.    New and NOW
A known incubator for cutting edge dance and other performing arts, REDCAT's New Original Works (NOW) Festival settles into its last two weekends, each offering an early look at three artists or groups. This Week 2 finds Paul Outlaw's horror movie nod to Franz Kafka, choreographer Kate Watson-Wallace, composer Hprizm and visual artist Verónica Casado Hernandez collaborate on a live collage, and interdisciplinary artists Alexandro Segade and Amy Ruhl demonstrate their "socialism app". Week 3 concludes the fest with a musical theater work from Source Material, then Austyn Rich considers front-lined black and brown troops, and Poor Dog Group's co-founder Jesse Bonnell goes solo. REDCAT, 631 W. 2nd St., downtown; Thurs.-Sat., thru Aug. 10, 8:30 p.m. $20, $16 students. https://www.redcat.org/now19.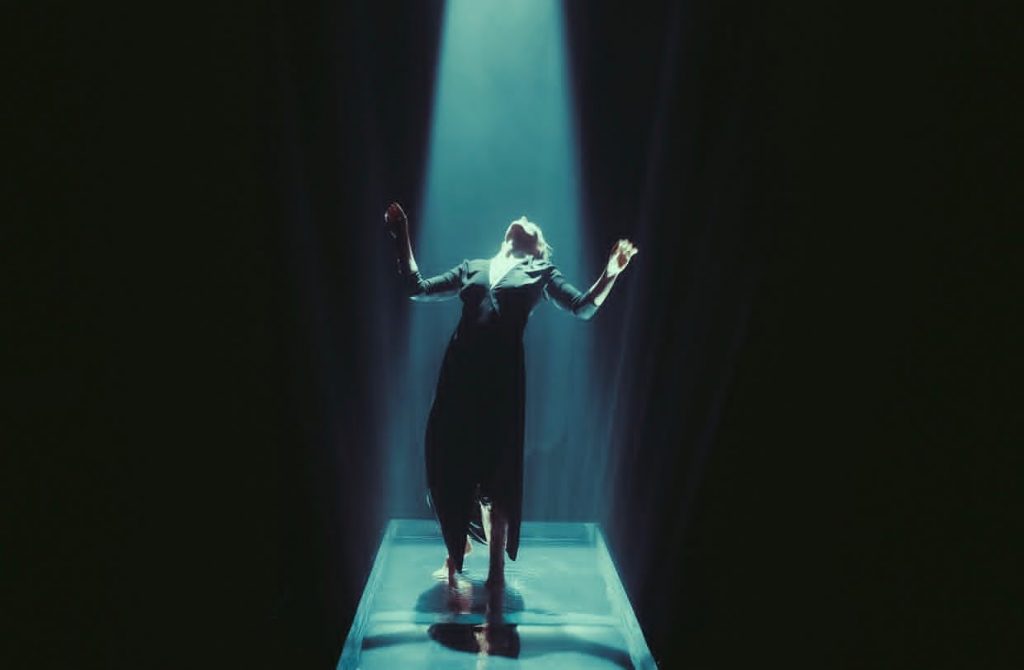 2.    No tutu zone
Don't expect tutus or familiar story ballet music, but do expect energetic action and highly trained ballet dancers when the contemporary ballet dancers of Kenneth Walker Dance Project take the stage. As a choreographer, Walker is known for drawing on atypical scores for ballet, here turning to music from North Africa for In Her Footsteps. Invited guest company Jose Costas' Contempo Ballet reflects a Caribbean sensibility fueled by Costas' Puerto Rican heritage. Among SoCal's growing ranks of contemporary ballet companies, the ten-year old KWDP is notable for giving dancers from the company's South Bay home base an alternative to leaving to dance elsewhere. Cal State University Long Beach, Martha P. Knoebel Dance Theatre, 6200 E. Atherton St., Long Beach; Sat., Aug. 3, 7:30 p.m., Sun., Aug. 4, 2:30 p.m., $17-$18. https://www.artful.ly/kenneth-walker-dance-project/store/events/18102.
1.    Train and traffic
The musical ensemble MUSE/IQUE hosts al fresco concerts each summer on the verdant grounds of the Huntington Gardens. This summer two concerts offer dance components to the evening of music.  This week's guest artists are another group that favors capital letters, the contemporary dance troupe BODYTRAFFIC. The theme is TRAIN/GLORY and the music menu serves up film music from The Great Train Robbery, Dr. Zhivago, Murder on the Orient Express, Taking of Pelham One Two Three, PolarExpress, Shanghai Express and Alfred Hitchcock's Strangers on a Train. The train motif is most appropriate for the venue since the estate's namesake Henry E. Huntington was a railroad magnate whose empire included L.A.'s fabled Red Car streetcar line.  The final event on Aug. 24 goes a more classical musical route and includes dancers from American Ballet Theater.  The Huntington Library Lawn, 1151 Oxford Rd., San Marino; Sat., Aug. 3, 8 p.m., (dining and mingling starts at 6 p.m.), $30-$130. http://muse-ique.com/events.
          Other dance of note:
Sponsored by the Rocky Mountain Ballet Company, Beyond Ballet Borders expands to SoCal from its original home in Montana with four days of events including a Gala closing performance, ticketed classes and competitions, plus several free events along the way. Except for the gala, most of the activities are centered at Loyola Marymount University. Among the free events open to the public: Your Signature Pose at the sculpture garden (Wed., Aug. 7, 5 p.m.), a dance film (Thurs., Aug. 8, 6 p.m.), and a half day conference on the role of the arts in global communication (Sat., Aug. 10, 9 a.m.) followed by the ticketed gala performance (Sat., Aug. 10, 6 p.m.). Full schedule at https://www.rmbt.org/bbb. Loyola Marymount University, 1 Loyola Marymount University Dr., Westchester; Wed.-Sat., Aug. 7-10, Gala at Redondo Beach Performing Arts Center, 1935 Manhattan Beach Blvd., Redondo Beach; Sat., Aug. 10, 6 p.m., $25-$90. https://www.rmbt.org/bbb.
Kids five and older are invited to create dance out of everyday gestures with Jennie Mary Tai Liu and Grand Lady Dance House during the two hour Pop Up Studio: Dance Your Story. Free tickets are at the box office at 10 a.m. Hammer Museum, 10899 Westwood Blvd., Westwood; Sun., Aug. 4, 11 a.m., free with ticket. https://hammer.ucla.edu.
Summer intensive participants are joined by company dancers as Backhausdance fills the stage with over 100 performers.  The occasion is artistic director Jennifer Backhaus' take on Gustav Holst's The Planets. Chapman University Waltmar Theatre, 315 E. Palm Ave., Orange; Fri., Aug. 2, 7 p.m., Sat., Aug. 3, 5:30 p.m., $35, $25 students. http://www.backhausdance.org/events.
After its annual July hiatus, the monthly, uncurated Max 10 returns with an evening that may include dance, music, film, spoken-word, slideshow, visual art and/or performance art, each no longer than ten minutes. Coordinated by Michelle Clay and hosted by Joel Shapiro, the long-running Monday night series is always full of surprises. Electric Lodge, Scott Kelman Theatre, 1416 Electric Ave., Venice; Mon., Aug. 5, 7:30 p.m., $10. http://www.electriclodge.org/max-10/.
Summer's JAM Sessions head to the Caribbean islands of Belize, Trinidad and Tobago, Jamaica, and Barbados with Betty Rox unveiling the secrets of soca, dance hall, punta, and African dance . This Monday series offers an array of free dance classes that dance participants around the world without leaving town. A full list and locations at the website. Ford Theatre, 2580 Cahuenga Blvd. East, Hollywood; Mon., Aug. 3, 7 p.m., free. https://www.fordtheatres.org/.
Warm summer nights mean it is time to dance under the stars with Dance DTLA. From now until September, the series affords different ways to move on most Friday nights. Free beginner dance lessons at 7 p.m. are followed by a chance to dance or to just watch and enjoy until 11 p.m. This week it's K-Pop. With the Music Center Plaza closed off for renovation, the action continues to move around, this week shifting to Grand Park's Performance Lawn. Each week's dance style and specific location at https://www.musiccenter.org/tickets/events-by-the-music-center/danceDTLA/. Grand Park Performance Lawn, 200 N. Grand Ave., downtown; Fri., July 19, 7 p.m., free. https://www.musiccenter.org.
Hoofers last chance! The tap-filled musical Dames at Sea closes its extended its run. Sierra Madre Playhouse, 87 W. Sierra Madre Blvd., Sierra Madre; Fri.-Sat., Aug. 2-3, 8 p.m., Sun., Aug. 3, 2 p.m., $45, $40 senior, $25 21 & under. http://www.sierramadreplayhouse.org/.
Feature image: BODYTRAFFIC. Photo by Rob Latour.
Ann Haskins Blog appears at CulturalWeekly.com