The Los Angeles Dance Festival (LADF) has partnered with the Luckman Fine Arts Complex under the direction of Executive Director Wendy Baker, to celebrate its 8th season and to honor the National Arts and Humanities month. Due to the restrictions of the pandemic, the festival will be presented virtually October 2 – 25, 2020. This is a month long free programming of performances and dance classes and because the festival will be streamed online, LA Dance will be seen by audiences around the world.
"In 2020, we moved from Live showcases in April to online festival in October. We may be out of the studios and theaters but dance continues," wrote Deborah Brockus, the Founding Executive Director of LADF,  in her press release.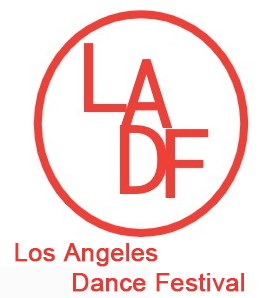 LADF was founded in partnership with Brockus Projects' neighbor Diavolo/Architecture In Motion widely known from its series of appearances on America's Got Talent. Diavolo was the co-producer with LADF, for the first two years of the festival.  Speaking about herself and how ideas come to her, Brockus wrote, "I get crazy creative ideas while stuck on freeways.  I think "Big Picture" and long term I love this city and love the dance that happens here."
"LA has always been ahead of the curve, or perhaps more accurately defined a new curve — because we followed nothing.  Other cities have emigrants, but possibly because our city has less history here, we seem to blend and share more- both in food, rhythm and movement" Brockus wrote. She went on to remind the reader that the dancemakers in Los Angeles are primarily women and that dance has been flourishing here for over a century bringing the world such artists as Isadora, Ruth St Dennis, Ted Shawn, Jack Cole, Martha Graham, Doris Humphrey, Lester Horton, Alvin Ailey, Carmen De Lavallade and Bella Lewitzky.  "We had the first interracial dance company under Lester Horton in the 40's; and we always mixed concert and commercial, social and theatrical dance.  The roots were here long before reality television co-opted the idea," Brockus added. Many of the LA dance artists have the DNA of these great dance pioneers running through their bodies.
In addition to LADF's partnership with the Luckman Fine Arts Complex, it has also partnered with Seoul International Dance Festival in TANK, Korean Cultural Center LA, City of LA Department of Cultural Affairs. Produced by Brockus Project Dance, Executive Director, Deborah Brockus. LADF began its partnership with the South Korea International Dance Festival in TANK (SIDFIT) last year. Several works choreographed by South Korean dance artists appeared on LADF 2019 and in turn, 7 works by LA dance artists were sent to the festival in South Korea. Brockus said that LADF is thrilled to continue this international artistic exchange.
LADF 2020 will feature some of the best choreographic works by local, national and international dance artists; artists who work in the concert, commercial and Hollywood Industry genres. These artists' work has been presented in theaters, films, television, music videos, commercials and on dance company concert tours both nationally and internationally.
The month long LADF 2020 festival will include four concert performances with 50 choreographers and four weeks of classes with free streaming each weekend plus online community classes that are free or have an affordable paywall. Classes are TBA.  Please check the website and our social media for updates.
"This year – featuring fifty companies over eight evenings in three venues for four weeks — LADF has its largest, most diverse offering in our history, coming out of the LA dance industry that is constantly growing.  The Festival gives its audience and its participants a true snapshot of place and time and represents the city itself — people from so many different ways of living, cultures, and counties make art in their voices here.  There is such a bounty of dance making here that we have the luxury of rotating companies – which helps us stay fresh," Brockus wrote.
Here is the list of weekend concerts:
October 2-4, 2020
Friday 6:00pm -Sunday midnight  – Main Stage -same show runs all weekend
PETER & CO, PonyBox Dance, Madison Hicks, Rosanna Gamson/ World Wide, Derion Loman, BrockusRED, LA Contemporary Dance Company, makedancehappen, Francesca Jandasek, Re:borN Dance Interactive, and SIDFIT South Korean Artists: Yoon Sumi , Kim Youngmi
October 9-11, 2020
Friday 6:00pm -Sunday midnight  – Main Stage – same show runs all weekend
Versa-Style Dance Company, CyberYOGA, Luminario Ballet, 2DANCECOLLECTIVE, Mixed eMotion Theatrix, Jana Taylor and Dancers, Ironstone Dance, cyan cian, BrockusRED, Danza Floricanto/USA, Lula Washington Dance Theatre, Ken Morris Project, and Seoul International Dance Festival in TANK: Kim Hyunsun, Kim Ok, and Yoo Gawon
October 16-18, 2020
Friday 6:00pm -Sunday midnight  -Main Stage –  same show runs all weekend
Charlotte Katherine & Co., Nannette Brodie Dance Theater, Robin Bisio Films, Kybele Dance, Poets In Motion, MarieElena Martingano & Camryn Eakes, John Castagna, Louise Reichlin & Dancers/ Los Angeles Choreographers & Dancers, The Dance Narrative Project, BrockusRED, and SIDFIT South Korean Artists: Lee Jihee, Kim Jubin
October 23, 2020
Friday noon -Friday midnight  – FRINGE artists
FUSE Dance Co, PSYCHOPOMP DANCE THEATER, The PGK Project, Authentic Grooves, leah hartley and drew ofthe drew, retrovibecreates, Jamie Burton Dance Collective, Tashara Gavin-Moorehead, Dharma in Motion, Errant Movement, Ruby Karen, Visionary Dance Theatre, Luke Zender, and inartwebreathe.
October 24, 2020
Saturday noon – Saturday midnight   – ALL South Korean guests Seoul International Dance Festival in TANK
Yoon Sumi, Kim Youngmi , Lee Jihee, Kim Jubin, Kim Hyunsun, Kim Ok, Yoo Gawon
October 25, 2020
Friday noon -Sunday midnight  – Luckman Directors Pick
TBA
The Los Angeles Dance Festival 2020 runs October 3 through 25 and it is free. To see the show that are available through the Luckman Fine Arts Complex, click HERE.  The list of shows are also available HERE. You can also stay current  with LADF 2020 on Instagram and Facebook.
More Basic information
To visit the Los Angeles Dance Festival website, click HERE.
Luckman Fine Arts Complex, click HERE.
Classes are TBA please check the website for updates and our social media.
---
Written and compiled by Jeff Slayton for LA Dance Chronicle.
Featured image: Los Angeles Dance Festival – BrockusRED – Photo by Denise Leitner