The following article was written by myself and originally appeared on my Facebook page on July 14th in celebration and honor of Alan Johnson's contribution as an artist to the world of dance.
Choreographer, Dancer, Alan Johnson.
Born: 18th February, 1937 – Died: 08th July, 2018.
The terminology "Dance Master" is often used to describe a performer irrespective of their number of years in the entertainment industry…and quiet often this terminology "Dance Master" is incorrectly used, which is even disrespectful to those who have genuinely earned the title. However, one Dancer/Choreographer who you would use this terminology to describe is Alan Johnson. Mr. Johnson has worked on Broadway, including front and behind the camera in Hollywood/TV. He was also a fastidious preserver of the original choreography from the stage show West Side Story.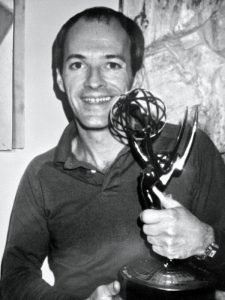 Mr. Johnson is known for working on Broadway in Movies on TV and with Nightclub Acts.
He was also known for the legacy of Jerome Robbins choreography for West Side Story. Nationally and Internationally Mr. Johnson has overseen many productions that restaged the original choreography. Between the 1970's and early 2000, Mr. Johnson had restaged 25 productions.
Re Staging of Original Choreography does not appear important to the younger audiences and/or dancers today and this is where having the knowledge of dance history becomes important part of a dancers training.
Keeping the original choreography and legacy alive today of productions, such as West Side Story, is in fact very important.
If we keep changing the choreography and staging of West Side Story from what it was, to something more modern in 2018…all of a sudden we only have a name, West Side Story and nothing else. The original intentions of the production has gone into history and probably forgotten. And if it were not for Alan Johnson and his passion for the arts, audiences today would be none the wiser.
Mr. Johnson talks about preserving the choreography and legacy of West Side Story.
"Jerry always said, 'I don't want to see the step. I want to see the intention behind the step."
"I think telling a story though dance–depicting character and emotion–is not exactly what is practiced today."
"When I first started, it was just a job. It later became an obsession with me: Since I have the knowledge, I have to pass it on."
"My responsibility is to do exactly what Jerry Robbins put on the stage of the Winter Garden back in 1957. People always ask me, 'Aren't you tempted to jazz it up?' and I answer, 'No.'"
"Jerry's art is communicating something, and his technique is the simplest, the most essential, definitive movement for each moment in the show. It took him a long time to find the right thing; he got a dispensation from Actors Equity to rehearse eight weeks (instead of the usual four). Because it was so good, it's lasted. It's become a classic. If it's not broken, don't fix it."
Mr. Johnson eloquently sums up his love, passion and artistry in the theatre.
"When you do a production that can teach you about theatre – the definitive kind of lessons of what's required of you on stage at every moment, it's really incredible."
Broadway:
Mr. Johnson's first Broadway show was West Side Story, 1957. He was an Understudy for the "Shark" role "Pepe" and "Nibbles." Mr. Johnson then went on to perform the role of "A-Rab" as a replacement.
Mr. Johnson spoke about working on the original Broadway production, West Side Story, 1957.
"Knowing everyone's steps, everyone's patterns, and I did it for a long time, so it's sort of ingrained."
Mr. Johnson went on to perform in the 1960 production of West Side Story as A-Rab.
He has a total of 13 Broadway credits to his name as a Performer and Choreographer.
Such as – As a Performer: No Strings, 1963. – Baker Street, 1965. As a Choreographer: Shirley MacLaine on Broadway, 1984. – Legs Diamond, 1988. – Chita Rivera: The Dancer's Life, 2005.
Mr. Johnson provided Direction and Choreography to the 1995 National Tour Production of West Side Story.
Mr. Johnson was Choreographer for the Revival National Tour of Can-Can, 1988, starring Chita Rivera.
Film:
Mr. Johnson's other stand out work as a Choreographer to Mel Brooks films The Producers, 1967, such as the "Springtime for Hitler" performance – Blazing Saddles, 1974. – Young Frankenstein, 1974, such as "Puttin' on the Ritz." – History of the World, Pt. I.
In a 2013 interview, Mr. Brooks talks about working with Mr. Johnson.
"Alan Johnson is the choreographer who did "Springtime for Hitler," the big number and he also did, you know, "Puttin' on the Ritz." Alan Johnson, a great, great choreographer. And the two guys, you know, the two wings that helped me flight for movies are Alan Johnson for choreography and John Morris for musical score."
Did You Know?
Mr. Johnson has provided artistic services to Shirley MacLaine, Ann Margret, and Tommy Tune.
Prior to joining the Broadway cast of West Side Story….Age 18 years, Mr. Johnson's first job as a dancer was performing with the Road Company of Damn Yankees.
Awards:
Mr. Johnson was nominated for a Tony Award in 1989, as Choreographer on the production Legs Diamond, 1988.
Mr. Johnson has been nominated seven times for a Primetime Emmy Award. He is a winner of three Primetime Emmy Awards in the category "Outstanding Achievement in Choreography."
'S Wonderful, 'S Marvelous, 'S Gershwin, 1972. (24th) 1972 Primetime Emmy Awards, Alan Johnson Winner in the category, Outstanding Achievement in Choreography.
Shirley MacLaine… 'Every Little Movement', 1980.
Irving Berlin's 100th Birthday Celebration, 1988.
2003 Career Achievement Award, American Choreography Awards.
Video:
What do you think of the choreography and dance number, "Strike Up The Band?"
Alan Johnson and Dancers in, 'S Wonderful, 'S Marvelous, 'S Gershwin, 1972, performing, "Strike Up the Band."
To see Andrew Choreographer's original article, click here.