An "Evening with Christopher Wheeldon" as presented by Los Angeles Ballet at BroadStage on Saturday, March 18, 2023 brought a night of gorgeous dancing to the sold-out crowd.  With recently appointed Artistic Director Melissa Barak at the helm, this is the kind of innovative and daring new work we can expect to see.   Though challenging for some, it will be exciting to watch the newly invigorated Los Angeles Ballet rise to the occasion, as I am certain they will do.
Christopher Wheeldon is an Internationally acclaimed director/choreographer as well as an Artistic Associate of The Royal Ballet and Resident Choreographer of The New York City Ballet.  While creating full length ballets such as "Alice's Adventures Through the Looking Glass" and "A Winter's Tale," he has also found time to direct and choreograph the Tony Award winning show "An American in Paris" and "MJ The Musical," currently running to rave reviews on Broadway. The three pieces presented Saturday night were Los Angeles Ballet premieres.
The aptly named "Ghosts" begins in a nether world of watery light, a space between life and death where memories are stored.  Though abstract in nature the essence of this atmospheric world as created by Mr. Wheeldon is clear.  A longing violin accompanies the dancers as they awaken and rise from the floor. The compelling music by Kip Winger ranges from nearly somnambulant to wildly, aggressively alive and Wheeldon does not miss a note.  Steeped in classical ballet technique, in communion with contemporary dance, a wide vocabulary of movement is available to Wheeldon to use at his will.  And he does. The dance is lush, free flowing with dashes of static movement, all of it dexterously staged. Wheeldon is also a master of partnering and this talent is abundantly clear here and throughout the evening. He has managed to find new and innovative ways for couples, trios and quartets to work in ingenious mind and body bending ways.  Sometimes a lift will come out of an impossible position and morph into something beautiful or a sliding along the floor will give the effect of rushing water as the dancers appear weightless.   A counter circle movement is nothing new, but as done to this music and with this choreography a moment of pure magic is created.  This was one of the nights highlights, simple but ravishing. The primary soloist Jasmine Perry, dancing with Tate Lee and Jonas Tutaj, brought refined but overly careful dancing to her part and though she was technically fine, I felt the the music was asking for more.  The exceptional Petra Conti commanded the stage when dancing with her partner Evan Swenson. Overall, "Ghosts "was a mesmerizing start to the evening.  The muted costumes by Mark Zappone, of greens, beige and muddy grey were exactly right and in keeping with the feel of the damp underworld.  Lighting by Mary Louise Geiger and Scenic Design by Laura Jellinek, also added much to the murky atmosphere.
The cast of "Ghosts" included company dancers, Lilly Fife, Lilly Leech, Cleo Taneja, Ryo Araki, Jacob Ray, Cesar Ramirez Castellano, Mackenzie Byrne, Cassidy Cocke, Hannah Keene, Santiago Paniagua, Marcos Ramirez Castellano, and Lucas Segovia.
"Morphoses" is a complex, athletic ballet for four dancers, set to "String Quartet #1," by György Ligeti, as inspired by Bartok and performed by Flux Quartet.   Ballet does not spring to mind when thinking of Ligeti's labyrinthine composition but Wheeldon has found a way to fuse the dance with the sound. Costumed in bright orange we again find the dancers lying on the floor and coming to life as the music begins its atonal ascent.  Using his ballet/contemporary style he now adds hard edges, flat modernist movement and tangled lifts and holds that do not always resolve as expected.  And he has added a welcome dose of sensuality not seen earlier. Lauren Lovette and Kate Inoue are the powerful female leads, who are seemingly capable of anything. The men, Zachary Catazaro and Shintaro Akana, work hard and put in much effort but struggle with balance and keeping their center.  Nevertheless, choreographic brilliance shines throughout. The smooth as silk bourrées spanning the length of the stage and the tilting Crucifix lifts, still linger in my mind's eye. Ligeti stated that he did not work in "notes" but "in many different colors."  It seems that Wheeldon works this way too. Costumes are by Holly Hynes and the perfectly stylized lighting design is by Mark Stanley as executed by Tyler Lambert-Perkins.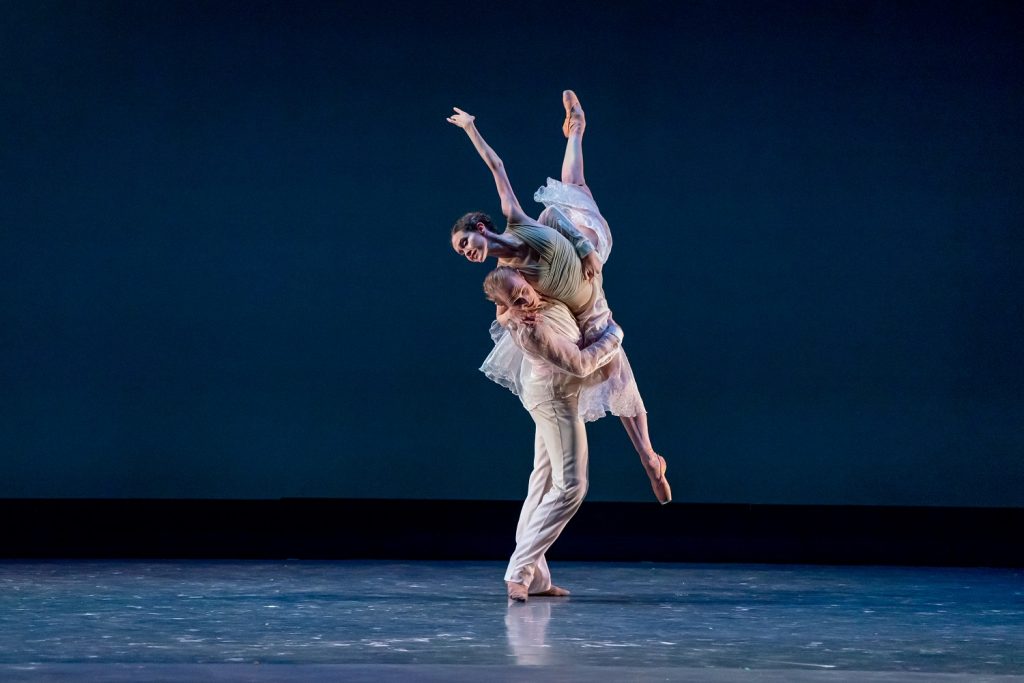 Closing out the evening was "Fool's Paradise," set to Joby Talbot's ethereally beautiful cinematic score.  Though there is no specific story it is easily possible to feel enveloped in a romance with no beginning, middle or end.  The pinkish-gold costumes by Narcisco Rodriguez and gorgeous Lighting Design by Penny Jacobus, again executed by Tyler Lambert-Perkins, serve to enhance the dreamy quality of "Fool's Paradise."   Duos, trios, quartets and more are impeccably set by Wheeldon who, seems to know no end to inventive staging and partner work. And he understands when to add something more, such as releasing golden flitter (snowflakes) to drift gently upon the dancers like falling stars. These moments are sublimely beautiful. I have heard this ballet compared to "A Midsomer Night's Dream," but for me it conjures the lyrical tragedy of "The Great Gatsby."
Three abstract ballets in one program can verge on the repetitive and might feel overlong but with that being said, this was a worthy night of wonderful dance.  I am hopeful that with Melissa Barak's leadership the Los Angeles Ballet will continue to develop and reach the heights it so deserves.
The cast of "Fool's Paradise" included company dancers, Petra Conti, Julianne Kinasiewicz, Kate Inoue, Lucas Segovia, Fabrice Calmels, Santiago Paniagua, Shintaro Akana, Poppy Coleman and Jonas Tutaj.
For more information on Los Angeles Ballet, please visit their website.
To see BroadStage's full season lineup, please visit their website.
This review was edited on 3/22/2023.
---
Written by Tam Warner for LA Dance Chronicle.
Featured image: Los Angeles Ballet – Julianne Kinasiewicz and Fabrice Calmels in "Fools Paradise" choreography by Christopher Wheeldon – Photo by Cheryl Mann