Resilience considered in Lincoln Park, pre-Halloween downtown, boundary breaking ballet premieres in Glendale, Russian classical ballet in Costa Mesa, the Music Center moves dance to Culver City and more SoCal dance this week.
5.  By any other name
In the west it's known as Les Sylphides, but in Russia where choreographer Michel Fokine originally choreographed it, the plotless romantic ballet set to music by Frédéric Chopin is known as Chopiana. That and three other Fokine ballets complete the bill for this visit by the Mariinsky Ballet and Orchestra. Originally the Tsar's Imperial Russian Ballet and later known as the Kirov Ballet, the celebrated company now bears the name of its home theatre, the Mariinsky. The other three ballets on the mixed bill are The Swan, a solo originally choreographed for ballerina Anna Pavlova, Le Spectre de la Rose with its signature giant leap through a window originally danced by Vaslav Nijinsky, and Schéhérazade capturing all the 19th century Russian fascination with the exotic foreign lands. While the Bolshoi Ballet is known for its larger than life dancing, the Mariinsky is celebrated for its faithful continuation of that original imperial Russian ballet tradition, well exemplified by this quartet of ballets.The conductor for all shows is Gavriel Heine. Complete casting at http://scfta.org  Segerstrom Center for the Arts, 600 Town Center Dr., Costa Mesa; Thurs.-Fri., Oct. 12-13, 7:30 p.m., Sat., Oct. 14, 2 & 7:30 p.m., Sun., Oct. 15, 1 & 6:30 p.m., $29-$159. 714-556-2121,  http://scfta. org .
4.  Hellish descent
Just ahead of Halloween, American Contemporary Ballet takes a page from Dante with Inferno, choreography by artistic director Lincoln Jones set to composer Charles Wuorinen's piece for two pianos. The new work opens ACB's seventh season with a fundraiser followed by more performances. ACB Studios, 700 S. Flower St., Suite 3200, downtown; Fri., Oct. 13, 7:30 p.m., $250, Sat., Oct. 14, 7:30 8 p.m., then Thurs.-Sat., 8 p.m., thru Sat., Oct. 28, $40-$80. http://acbdances.com.
3.  Like a rock
Life forces and human resilience are considered  by choreographer Deborah Brokus and her Brokus RED in Granite. The evening includes new choreography by Brokus and guest choreographers, performed by top notch dancers including Raymond Ejofor, Julienne Mackey, Will Clayton, Cersha Burn, Moises Josue Michel, Liz Bustle, Andrew Corpuz, Arlondriah Lenyea, James McQueen and Ruin Short. Diavolo Black Box, 616 Moulton Ave., Lincoln Heights; Sat., Oct. 14, 8 p.m., Sun., Oct. 15, 6 p.m., $10-$25. http://brockusred.org .
2.  A festival takes flight
The truly dedicated will need to attend more than four shows per day to see all of the 44 performances over the ten days of the 5th edition of the Los Angeles Exchange (LAX) Festival. Just concentrating on the promising passel of dance events from a raft of mostly contemporary dance artists should provide a deep taste of the fest's cutting edge flavors. The Bob Baker Marionette Theater hosts Milka Djordjevich (Oct.11-13, $20). Bootleg Theater offers Sabela grimes (Oct. 13-15, $20), and L.A. Theater Center's line up includes Tamara Cubas + Teatro Línea de Sombra (Oct. 12-15, $25). Full descriptions of the dance and other LAX events, times and tickets at http://performancepractice.la/festival. Bob Baker Marionette Theater, 1345 W 1st Street,. downtown; Bootleg Theater, 2220 Beverly Boulevard, Echo Park; Los Angeles Theatre Center, 514 S Spring Street, downtown; LAX Festival Fri.-Sun., Oct. 6-15, http://performancepractice.la/festival.
1.  Lions in the round
Dance takes over a movie soundstage as Akram Khan and his eponymous Akram Khan Company perform Until the Lions in the round. Even before he won his many awards, Khan was a breakthrough choreographer blending his background in India's classical kathak dance with contemporary dance elements for his own as well as for national and international dance companies. He even paired up for a star turn tour with French superstar ballerina Sylvie Guillem.  Khan's extraordinary skills and vision are the opening salvo of Music Center on Location, with the Music Center venturing to present outside its downtown campus.  After presenting two dance programs at the Ford over the summer, this time downtown goes west to bring Khan's retelling of a segment of the Mahabarata, with this male choreographer audaciously approaching the endeavor from a female point of view. Culver Studios, 9336 Washington Blvd., Culver City; Wed.-Sat., Oct. 18-21, 8 p.m., $20-$117, 213-972-0711 http://musiccenter.org/lions.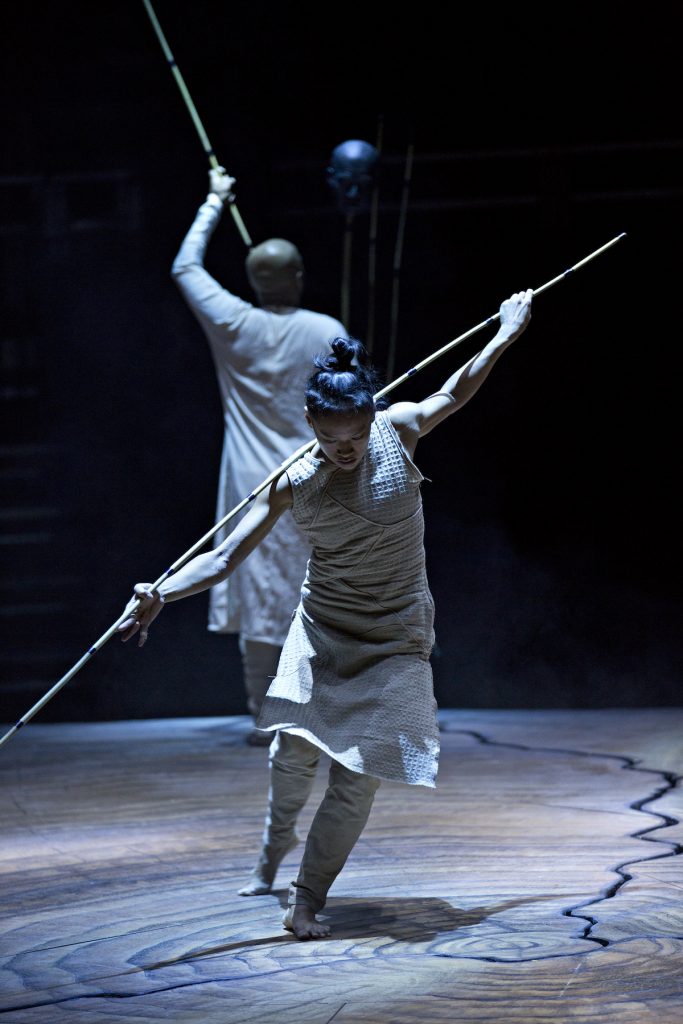 Other dance of note:
Mixing elements of a charismatic ballet star and the world of Andy Warhol, Freddy marks a new dance theater venture for The Fountain Theatre and its producer Deborah Lawlor. In addition to the sterling reputation for the venue's productions, Lawlor also is the producer behind the long-running, mostly monthly Sunday flamenco series Forever Flamenco that has gone on, essentially forever. Now Lawlor takes on playwright duties as the Fountain Theatre partners with LACC's Theatre Academy to explore new dance and theater possibilities. Carminito Theatre, L.A. City College, 855 N. Vermont Ave., E.Hollywood; Fri., Oct. 13, 8 p.m., Sat., Oct., 14, 3 & 8 p.m., $25. 323-633-1525  http://FountainTheatre.com.
Under the banner Variance, this concert presents works by BFA candidates and a restaging of legendary choreographer Charles Weidman's 1936 Lynchtown. Contributing choreographers include Alice Amano, Tanner Miranda, Justin Morris, Haley Richartz, Katelyn Sanchez, and Maili Schlosser. Martha B. Knoebel Dance Theater, Cal State University Campus, 6200 E. Atherton St., Long Beach; Thurs.-Fri., Oct. 12-13, 8 p.m., Sat., Oct. 14, 2 & 8 p.m., $20, $16 seniors & students. 562-985-7000, http://csulb.edu/dance.
This Side Door Soirée offers hors d'oeuvres, cocktails and a first look at the latest from Jacob Jonas The Company. Marc Selwyn Fine Art, 9953 S. Santa Monica Blvd., Beverly Hills; Thurs., Oct. 12, 6:30 p.m., $150. https://www.eventbrite.com/e/side-door-soiree- tickets-37320320082.
The story of a dancer with Batsheva Dance Company who left Israel to return to the U.S. and found a new definition of herself and of dance, Elvira Lind's documentary Bobbi Jene won multiple awards at this year's Tribeca Film Festival and now opens in L.A. Royal Theater, 11523 Santa Monica Blvd., W.L.A.; opens Fri. Oct. 6, 1, 3:20, 5:40, 8 & 10:15 p.m., $13, $10 seniors & children under 11. https://www.laemmle.com/films/42876.
The respected training company Festival Ballet goes through the looking glass with Alice in Wonderland. Irvine Barclay Theater, 4242 Campus Dr., Irvine; Sat., Oct. 14, 7 p.m., Sun., Oct. 15, 2 p.m., $35-$49. http://thebarclay.org .
Recalling yesterday's tiki bars, Anaheim Ballet offers Martini Ballet. Segerstrom Center For the Arts, 600 Town Center Dr., Costa Mesa; Thurs., Oct. 19, 7:30 p.m., $20-$50. 714-556-2787, http://scfta.org .
Traditional dress and dance highlight Ballet Folklorico Costa De Oro's Fiesta En El Panteon celebrating Dia de los Muertos (Day of the Dead). La Mirada Theatre, 14900 La Mirada Blvd., La Mirada; Sat., Oct. 14, 2 & 8 p.m., $11.25-$35. 714-994-6310, 562-944-9801, http://lamiradatheatre.com.
Chinese classical dance and modern dance blend with Lily Cai Chinese Dance Company. CalTech, Beckman Auditorium, 1200 E. California Blvd., Pasadena; Sat., Oct. 14, 8 p.m., $45, $10 youth. http://www.caltech.edu/content/lily-cai-chinese-dance-company.
Respected local flamenco dancer and teacher Roberto Amaral heads an ensemble of dancers, musicians and singers to the stage in Fuego Exotico. El Portal Theatre, 5269 Lankershim Blvd., North Hollywood; Sat., Oct. 14, 4 & 8 p.m., $45. 818-508-4200, https://ci.ovationtix.com/371/production/977588?performanceId=10193091.
It's dancing at the library as Ballet Folkorico de Los Angeles offers the final free performance of Los Angeles Public Library's summer series LA Made. Lincoln Heights Branch Library, 2530 Workman St., Lincoln Heights; Arroyo Seco Regional Library, 6145 N. Figueroa Street, Highland Park, Sat., Oct. 14, 3 p.m., free. 323-255-0537.
Ann Haskins' blog appears at CulturalWeekly.com