8th Annual Bay Area International Deaf Dance Festival
August 14-16, 2020
FRIDAY, AUGUST 14, 6PM PDT
SATURDAY, AUGUST 15, 6PM PDT
Presented by Antoine Hunter's URBAN JAZZ DANCE COMPANY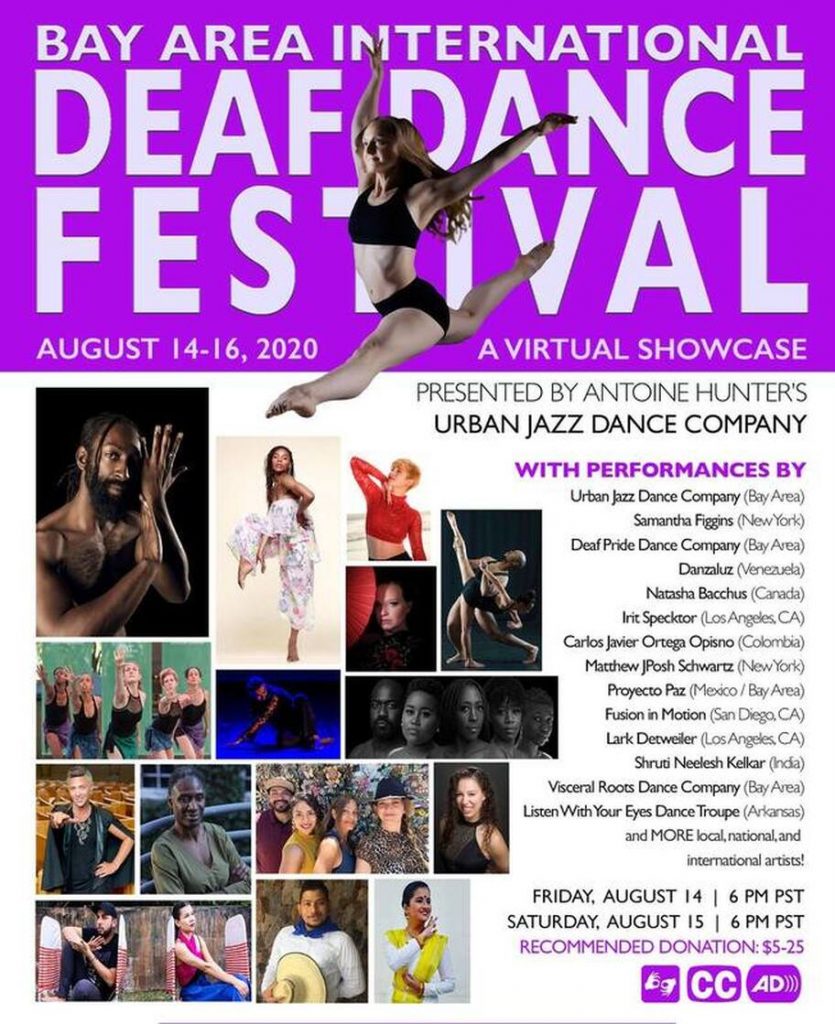 Tickets, click HERE.
We are proud to feature diverse sign languages including, but not limited to:
Columbian Sign Language, American Sign Language, Spanish Sign Language, and
International Sign Language.
Access Information for All Shows:
•ASL/English interpretation at each show
•Deaf International Sign Language interpretation
•CART captioning (English)
Sunday Only: •Audio Description
Where: Bay Area Annual International Deaf Dance Festival website, HERE.
Date and Time:
Fri, Aug 14 – 6:00pm
Sat, Aug 15th- 6:00pm
*Sun, Aug 16th- 5pm ( There will be a different program for the family friendly matinee)
For detail information on the 8th Bay Area International Deaf Dance Festival, click HERE.
.
---
The Director's notes:
During the beginning of COVID-19 (coronavirus disease) we notice Deaf people did not have access to same information on what was going on until at least 3 weeks later than hearing communities.
When the pandemic began, government officials began holding daily press briefings to update the public on television and online. Interpreters were not present for Deaf Communities and even when they were provided they were often unqualified and unable to communicate effectively. We understand what it like to be left out so therefore we will do our best to make sure no one feel left out!
As founder of Bay Area International Deaf dance festival –
My dance company lost over 30 thousand dollars worth of opportunity, to give to our dances, business, and community.
We had not give given up.
2020 is hard but please join us for an amazing event!
We are bringing our heart and passion and making it virtual for all to join us!
We love you communities!!!
-Antoine Hunter/PurpleFireCrow