January 23, 2020: Pavullo nel Frignano, Italy, Province of Modena, Region of Emilia-Romagna- the eventual heart of the pandemic in Italy. I receive an email from my dear friend Jeff Slayton introducing me to Roberta Escamilla Garrison, an American ex-pat dancer/choreographer living in Rome. The novel Coronavirus SARS-CoV-2 that causes Covid-19 has recently made news as an outbreak in China. We have no idea what's ahead. Roberta has had the brilliant idea to stage two of Viola Farber's works on her students at the Accademia Nazionale di Danza, Roma. Jeff, as Viola's former husband, executor of her estate, and copyright-holder, suggests Sunday Afternoon (1976), a sextet, and Double Walk (1978), a duet co-choreographed by Viola and himself.
January 31: Italy declares a National State of Emergency.
February 15: Roberta calls me from Rome and recounts her extended history working with Viola, Jeff, Elaine Summers, and the wider Cunningham community in New York in the 60s and 70s; her innovative work with Jazz and improvisation both in the states and in Italy. She tells me that she also obtained permission to stage Elaine Summers' Theatre Piece for Chairs and Ladders, a structured improvisation she had performed herself 60 years ago. Roberta received permission for Theater Piece for Chairs and Ladders from the Artistic Estate of Elaine Summers, with thanks to the Jerome Robbins Dance Division, the New York Public Library for the Performing Arts. Our circles overlap – we have a lot in common and know many of the same people, including my close friends, elders, and mentors, Simone Forti and Rudy Perez. She tells me how she met her late husband, the world renowned Jazz bassist, Jimmy Garrison, how he lived, and how he died; and proudly informs me about their two children: Maia, a dancer/choreographer and former member of Urban Bush Women, and Matthew, a Jazz musician who toured with Herbie Hancock, and the founder of the Brooklyn-based venue, Shapeshifter Lab. I'm deeply impressed and wonder how I never met Roberta before. She tells me she needs an assistant to stage Viola's work. She assures me Rome is safe, and invites me to visit her so we can talk about the project and get to know each other.
March 4: Schools and Universities are closed throughout Italy. It's slowly dawning on us just how serious the novel Coronavirus could be. My husband, Alessandro Girasoli, and I discuss the risks of train travel and Covid. Mask-wearing is not yet commonplace, nor mandated, and we decide it's probably ok.
March 6: I get on a train for Rome. I sit next to a guy with a mask on already and wonder if I should be wearing one. I walk to Roberta's apartment. The streets are deserted. We have a lovely visit. Roberta has just turned 79 in October, and we trade stories about our love affairs with Italy, various husbands, and the beauties and hardships of a life in dance. I share my background as a professional rehearsal director, and we agree that I'll come back in June and stage the two Farber works, thinking Covid will be over by then. Her plans to take me to the Accademia to meet some people and show me around the studios are dashed by the national school closure, so we don't do that.
March 8: Italy's Prime Minister announces that a national lockdown will go into effect the next day.
March 9: My train is cancelled and I'm stuck in Rome. I get an email saying my ticket will be re-booked and that shortly I'll receive another informing me of the re-booking. I wait all day. Nothing arrives. No-one is answering the phone at TrenItalia. I decide to go to the train station with my suitcase and wait for information. Roma Termini station is in chaos. I get in line. After an hour I get to a window and ask for the next train to any station in Modena. It's going to be tomorrow. I go back to Roberta's apartment and call Alessandro. He's very agitated because it's illegal to leave one's town and how can he get me from the train?
March 10: I go back to Roma Termini. The train they assigned me will arrive at a more distant Modena station. I board – it's nearly empty. After arriving, I have to take a taxi to a regional train station in order to arrive at another station nearer our home, so Alessandro will risk less time driving illegally. The taxi driver is wearing a mask, loosely. I try not to breathe too much. Alessandro collects me and we drive home with fingers crossed while discussing various strategic explanations to give the Caribinieri, Italy's state police, should we get stopped. We don't want a multa, a monetary fine. We make it home ok feeling extremely lucky. I kiss my husband goodnight through a sheet.
March 13: I start posting warnings on FaceBook every couple of days for my friends in the US. Don't wait for your mayor, governor, or the federal government: #selflockdown NOW! People start dying in Italy at the rate of 500, 600, 700 a day and more. Roberta is abandoning plans for a visit to New York and son Matthew. I start to wonder what will happen with my own plans to return to the states on March 23rd.
March 21:  Swiss Air cancels my flight back to the states. I can't go home. Roberta and I are chatting on WhatsApp regularly. We talk about postponing the project. She proposes July. I propose September.
March 27:  The New York Times announces the USA has more cases than any other country worldwide. I worry about my mother but calm myself knowing she stays home all the time and doesn't see anyone. She and I chat on WhatsApp.
April 6: Stiamo in attesa, we're in waiting, living in lockdown. I'm listening to MSNBC all day and all night on my phone, very alarmed. I half-heartedly start studying Viola's choreography.
May 5: The videotape of the February 23 Ahmaud Arbery lynching in Atlanta is released. My energy shifts. I watch the video 20 or 30 times and ask myself if this is really the 21st century. I have incubi, nightmares.
May 13:  Details about the shooting of Brionna Taylor on March 13 are made public.
May 25: George Floyd is murdered in public by Derek Chauvin. It's all caught on videotape and the USA explodes, finally, per forza, necessarily.
May 29: I start posting videos on FaceBook for the first time in my life. I say that the presumed democratic nominee, Biden, HAS to choose a Black woman running mate, and must put her in charge of police violence and the Criminal (in)Justice system, once elected.
June 5: Washington, D. C. Mayor Muriel Bowser officially renames part of 16th Street, Black Lives Matter Plaza. It's wonderfully satisfying. It's the right response. We need 21st century monuments.
June 6: Biden secures the Democratic presidential nomination. I feel a little hope.
June 12: Rayshard Brooks is killed by police outside a Wendy's restaurant. It doesn't stop. I'm trapped by Covid. I want to go back to the states. I'm helpless in Italy, just watching. I want to help my country, protest. Everything else takes on less importance, and the future not only seems, but is, hugely uncertain. I doubt any work will happen for me and begin not to care. Viola spent a length of time in Europe, too. I understand her. She, Roberta, and I, myself, fade into the background. I'm thinking about Black Lives Matter.
June 15: I start considering the virtual class option as a way of making a little money, since most of my projects have been cancelled or postponed. I hadn't wanted to get on that bandwagon. My friend Yana encourages me. She wants me to teach online. But the protests, the ongoing nightmare of Trump, the legacies of colonialism, the decimation of the collective Indian Nation, and slavery, are all converging into a kind of cultural event horizon. Will we survive it? It's all I can think about.
June 17: I post another video on Facebook. I try to explain the Doctrine of Discovery and the Papal Bulls of 1455 and 1493 that gave European monarchs the right to claim any land not inhabited by Christians, terra nulla, empty land, as they termed it. How it all started, and how we ended up here.
July 8: A new reality has sunk into the world. NOTHING is certain. It's so much worse than we thought. Yet Roberta and I still imagine that we can do the project in October. We start seriously discussing how a group piece choreographed with no distance in mind and plenty of partnering could be staged under Covid-19. Will there still be distance rules in four months? I start teaching Horton Technique online for $8 a class. At first I donate 50% to Black Lives Matter. I want to support them but can't make enough of a monetary donation out of my own pocket to make a difference. Then I change it to 100% because I'm really behind their platform, and don't want any benefit. It seems like the only way I can help. Teaching is good for me and I feel a little better. July goes by focused on this.
August 1: I meet another ex-pat at an outdoor dinner party, she's from Iran. She starts bashing Biden, Obama, and praising Trump. I feel physically assaulted. First I'm struck mute and then I have a meltdown, shocking our hosts and ruining the evening. I tell them they don't understand. Not that I expect them to. America is not their country, no history of slavery, nor our particular form of white supremacy. Alessandro stands by me, but I can see he's worried.
August 11: Joe Biden names Kamala Harris his running mate. I'm ecstatic. My dream, and that of many others, has come true. She's the bridge, thanks to Biden doing the right thing. Now we'll turn a corner. I see a future America with majority-minority leadership and look forward to it. We can finally be in the real 21st century.
August 20: Things are improving in Italy. National rules are relaxing. Schools will re-open in September with distance. A schedule for The Viola Farber Project is emerging. 10 days, four hours per day, with six hours on Saturday. 18 students. Three studios. A video feed? There will be two more assistants, Alice (Ah-lee'-chay) Drudi, a teacher of Farber technique who has worked with Roberta for years, and Luca Russo, a dancer and teacher who had worked with Cunningham in the '80s. We figure that between the four of us, the material can be successfully transmitted. High anxiety over the coming US election pervades everything. I sign countless petitions, share a lot of stuff on FB, and get into an ugly online argument with two people over systemic racism and police violence.
September 2: Daniel Prude's death in custody back on March 23rd is revealed. It just doesn't stop. Focus turns from protesting to routing Trump.
September 13: Jeff wants to commission a new score for Sunday Afternoon. He asks Alessandro, who is a composer, if he has anything suitable. They settle on an expanded version of Aerogas, just released last year. Jeff loves it. A 21st century composition for a 20th century work.
September 15: Finalizing plans with Roberta. The dates are set for October 19-29. Trying to picture how it will all work. I'll be in one studio with 8 students, Alice and Luca in a small theatre with 6 students, and Roberta in a third studio with 4? There will be a video camera in my studio projected into the other studios? I'll have my back to the camera so we'll all be on the same foot? I have trouble picturing it. But we go ahead with determination. It has to happen. I divide the choreography from Sunday Afternoon into 15 chunks, and start memorizing everything. I imagine myself learning Double Walk after I've started teaching Sunday Afternoon. But I begin to see with more clarity that the plan to present Sunday Afternoon as orginally choreographed has to be abandoned. The two partnering sections are unworkable since physical contact is strictly prohibited, and I drop them. Jeff agrees to a workshopped version. Common sense safety, alongside strict Italian distance laws, and, as we soon discover, time itself, overrules a bona fide interpretation of Viola's ingenious creation.
October 16: I get on a train for Rome. I'm wearing a double mask. I change my assigned seat (against the rules) because it's too close to other people. It's dark when we arrive. Two men have ideas about how to help me get a cab and carry my suitcase. I get rid of them and hail a taxi by myself. At Roberta's apartment I meet Teri Weikel, another ex-pat American dancer, Roberta's dear friend about whom she's been telling me. Teri worked for years with Donald Byrd and is a Feldenkrais teacher working at the Accademia.  She's delightful and happens to live in the same province I do, less than an hour away. We talk about getting together sometime in the future. Today is Roberta's 80th birthday. We go out to dinner before the 8PM restaurant curfew goes into effect. We sit at separated tables. No-one's wearing a mask. We kind of trust that everyone has been following protocol. It's all Roberta's ex-pat friends and some family: her step-daughter Joy Garrison and Joy's husband, Fabrizio. For birthday cake we have the best cheesecake I have ever eaten in my life.
October 17 & 18:  Roberta and I spend the weekend watching Viola's videos and planning the rehearsals. Teri explains the studio arrangements at the Accademia. It's pretty much as I pictured. We'll all be separated. I try to stay positive. I optimistically think that I can finish Sunday Afternoon in five days, and then start Double Walk. I listen to the news. Trumps says he may leave the US if he loses. Good riddance.
Monday, October 19, Day 1: Alice picks us up. We arrive early at the Accademia. Everyone is masked, and must remain so whenever indoors. There is a temperature-taking device at the entry. Mine is well below normal, which is normal for me. We use the sanitizing gel provided. We had been told that in addition to masks, we would have to wear transparent face shields, but they aren't offered to us, and we don't complain. We are met by Stefano, the technical director, and we go to a large studio. He explains the setup. There's a video camera trained on where I'll be teaching my group – this will be displayed on screens in the other two studios. He hands me a head mic. I reluctantly put it on. It's too big for me but I get used to it. All the studios have been marked out in equal divisions of 3 x 3 meter squares. Mine has 8 squares, with one meter in between each square. One dancer per square. I'm sort of in between. It's inexact. The students start arriving. Only 16, not 18 students. I feel some relief. Despite distance rules we all gather together in the big studio as far apart as possible, and Roberta introduces me, Viola's and Elaine's work, what we plan to accomplish. Then we separate. Alice uses the small theatre converted for studio work. Since there are two less people, we end up in just these two studios, more manageable. I give a quick warm-up and then we begin the transmission process. It goes more slowly than I anticipated. The movement language is challenging. The opening canon requires excellent balance and control – turning and hopping on one leg, often without a plié prep. Then there are three jumping sequences early on, with unpredictable patterns, very similar but not identical. I call them donna (woman) A, B, and C.  Alice and I stay in contact via WhatsApp. It's very difficult for them to capture what I'm demonstrating through the TV monitor. She calls me and asks me to repeat things several times. I call her back to see if we can move on. The students are challenged by trying to memorize and distinguish the three phrases. I get mixed up, too. We get bogged down with this on the first day, and I promise them that it will get easier after this. All this in my self-taught Italian that everyone claims is very understandable. We finish the first day and go home. I listen to MSNBC on my phone, catching up. It's horrendous what's going on in the states. Endless simultaneous emergencies, a now familiar characteristic of the 21st century.
Tuesday, October 20, Day 2: Luca comes today. He offers to give a short Cunningham warm-up. This is great. I meet Dino Verga, the Accademia's Project Coordinator for the Contemporary Dance Department. Also a Cunningham devotee, he's in a rush to go teach another class, but speedily gives a couple of exercises. Luca goes to work with Alice in the theatre studio. Then we review the tricky, woman A, B, and C phrases, and progress to new material. Soon, Alice arrives in my studio. There's a short in my mic and it's making an intolerable noise in the theatre sound system. We have to stop. We call Stefano. I happily hand him the head mic, and he puts a floor mic on the ground in front of me. This solves the short problem, but makes audibility harder because I move around and the mic doesn't. Roberta and I revisit the debate of learning from video versus person-to-person transmission. We agree again that live teaching is extremely important and that we won't share the videos with the students, despite the difficulty of this process. That afternoon, I notice that there is a very large tented theatre outdoors. I ask if we can use that space so that everyone can be together. Answer: no, because it's in use for a class even larger than ours.
Wednesday, October 21, Day 3: We press on. The material is still challenging, but more physically than mentally now. We lose one male dancer. We're down to 15. Gender assignments have been out the window since the beginning, and everyone learns everything. I start to recognize people by their body shapes and the way they move, instead of by their faces. My mind tries to fill in the missing information, nose, mouth, jaw, etc., but when I catch a glimpse during pranzo, lunch, when people are unmasked, I'm surprised for some reason by the reality. Roberta gets a call from Luca: he has to quarantine for two weeks because someone at the school where he teaches has tested positive. He won't be coming back. We're all very disappointed and pray he'll be fine. I end the day saying I think we can finish Sunday Afternoon by Friday. I tell Roberta that we have to get into that tent, at least for the last day, or we won't be able to present Sunday Afternoon in any way that reflects the amount of work the students are putting in. She agrees. I go down to the tented theatre and peek inside. There are 15 squares. Perfect. Unbelievable.
Thursday, October 22, Day 4: I can call everyone by name now. We work on some of the extraordinary jumping phrases. This piece requires strength. It's humbling. The students, all MFA candidates, which is almost a PhD in the Italian education system, are getting worn out. They need this project for their degree. It's a tremendous amount of information. I'm worrying that I never do get to work with Alice's students in the theatre. It feels segregated. It is segregated. But Italy's Covid rules say the students have to remain in the studio in which they began. And I can't work from there because there's no camera. It's very difficult for this group, they're at a disadvantage. I know Alice is working hard under impossible circumstances. By the end of the day, I'm sure we will not, in fact, finish Sunday Afternoon by tomorrow. I get the idea that there might have been some kind of  mutiny in the theatre.
Friday, October 23, Day 5: Alice comes over again. We're moving around too much and the camera only captures the two most downstage squares. Can we stay in those squares? Somehow I hadn't realized this was a problem. We pay closer attention to what the camera can see. Time is eaten up. I realize that, not only are we not going to finish Sunday Afternoon by the end of today, we aren't going to get to Double Walk– EVER. I'm learning on the job. I tell Roberta I think we need to abandon Double Walk because it's Friday, Sunday Afternoon isn't finished, and we haven't even attempted Elaine's Theatre Piece for Chairs and Ladders. I consult Dino- he agrees. Roberta and I decide that whatever happens, she'll introduce Elaine's work tomorrow, Saturday, right off the bat, first thing in the morning. I ask Stefano to prepare for a big screen viewing of the entire Sunday Afternoon in the theatre.
Saturday, October 24, Day 6: Today is the long one: 9AM to 3PM. The students are out of sorts. They are tired, brains and bodies on overload. 9AM seems inhuman. Roberta starts with Theatre Piece for Chairs and Ladders. It goes great, first attempt. The students are wonderful- inventive, vocal, and very funny.
It's a huge relief to do something different. We stop worrying about that. We break for lunch and then meet in the theatre to watch Sunday Afternoon. The students see the entire original choreography for the first time. It's wonderful to see it large. It is shockingly fast.  
Every section is like a new original piece of choreography. Almost no vocabulary is repeated. The Louis Horst method of dance composition rules are marvelously absent. Radical. I privately wonder if we should have waited for a post-Covid environment do this project so that Viola's choreography could be realized as it was intended. Then I remember that there may never be a time without Covid. We go back to the studios for the afternoon. I'm determined to finish the piece today. I cut one of the unison sections at the end, and abbreviate the last canon. There just isn't enough time and the work is too difficult. Done. At night I try listen a little to what's going on the states, but I'm too absorbed in our project. If Roberta hadn't had this fabulous idea, when would Viola's choreography ever have been seen in the 21st century?
Sunday, October 25: Finally, a day off. We rest, bumble around the apartment, meet in the kitchen, snacking, go back to bed. A new directive has been handed down in Italy: restaurants have to close by 6PM. We don't go out. We talk about the remaining four days. I mull over how we can present the work with some integrity. I start assigning segments to the 15 students. I try to give everyone at least 4 parts, unless they are injured. I try to be fair. I insert a repetition of the first trio to give more stage time to some people. I'm unfamiliar with the skills of the students in the theatre. I text Alice and we discuss who is strongest at what. I decide which square each dancer should have based on the flow of the segments.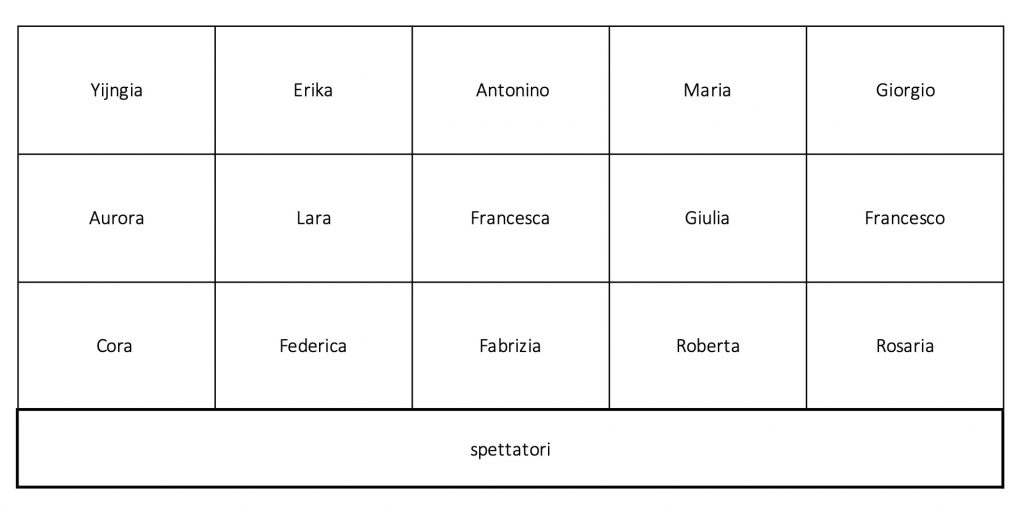 Monday, October 26, Day 7: I change our front in the studio 180 degrees, away from the mirror, so the students won't rely on it. The camera is rotated. We go over the last two sections I had taught on Saturday, and then return to the beginning and review everything in order. After lunch, we all go to the theatre and I inform everyone which parts they will be responsible for. We separate again- this time I stay in the theatre and work with the other group for the first time. There are some understandable misunderstandings about some of the material. I make corrections. We go through the piece reviewing everyone's parts. Alice does the same in the other studio. They're improving, it's natural. I go back to the hardest sections, working on the weighted quality, talking about how it's okay to make sound with our footfalls: a side attitude tilt fall- thump, repeat, thump, repeat. We work on unison, not mechanical, but with an awareness of the other, a sense of unità, unity. They persevere, it's coming.
Tuesday, October 27, Day 8: We all meet in the theatre where we can sit with distance. We attempt the sequences in order with everyone dancing their assigned parts. I had planned all the entrances and exits believing that, if it was a trio, for instance, they could use all the depth space in front of them, as long as they kept distance. After getting through about 2/3 of it, the distance issue is raised once again. The rule is clarifed for me: the dancers can't leave their squares, even if there is no-one in front of them. I can't believe it. Much discussion. Entrances and exits are a no-go. I feel like an idiot. How did I not know this? OK. I re-think the whole thing. We separate into two studios again. Everyone re-works their phrases staying inside their squares. No traveling. The rest of the day is spent on this adaptation. The choreography changes, per forza, by necessity. I ask the dancers to bring solid color pants and tops as a kind of costume.
Wednesday, October 28, Day 9: Our last day of regular rehearsals. We try it all together in the theatre, breaking rules, because otherwise we can't get through the sequences in order with everyone working together. We troubleshoot some of the most difficult phrases for the last time. We've fully accepted the idea of confinement. In my mind I rename the piece Sunday Afternoon in Fifteen Squares. It's taken on a new post-modern aspect. The dancers kneel in their spots, waiting for their next "entry". We practice the rhythm of waiting, rising, dancing, and kneeling. Roberta runs Theatre Piece for Chairs and Ladders one more time. It's looking good. The students show me their choices of colored clothing. I can see it in my mind inside the tent. We let them go an hour early. Some of them want to stay and I work with them, more refinements, clarifications. It's 4PM. Time to stop.
Thursday, October 29, Day 10: The final day. We have the tent! Everyone goes to their assigned square. I give them a 20 minute warm-up. We run the whole program in order, prova generale, a dress rehearsal. Sunday Afternoon will be first, followed by Theatre Piece for Chairs and Ladders. It's about 23 minutes in all. The run-through is fantastic, we're not worried. We break for lunch and plan for a 3PM spettacolo, performance, hoping that some of the Accademia's directors will be able to come, knowing that they have been consumed with Covid issues and especially, keeping the institution going. I ask if anyone wants to do a video interview with me. Cora volunteers, as she tends to be the student spokesperson, she says.
3PM. No guests. We wait a few more minutes. Dino finally arrives with several of his choreography students and a few of the other faculty. We have an audience! I climb a ladder and videotape from the corner. It all goes beautifully. The colors on the white floor are glorious, in stunning contrast to the old black and white film I've been working with all this time. Everyone claps and screams when it's over. We do a group photo with tilted heads, a classic Viola gesture.
In this tiny, famous little spot in Rome, an important piece of dance history has been brought alive during a global pandemic. Sunday Afternoon has survived 44 years of hypersleep in a digital file. It looks new and different, yet somehow intact. It's a classic. I feel extraordinarily lucky to be a part of the chain of events that brought me here. Sunday Afternoon is here in the 21st century, rightfully revived by the vision of Roberta Escamilla Garrison. Thank you, Roberta.
November 1: Jeff emails asking if I'd like to write an article about my experience teaching Sunday Afternoon. It had crossed my mind. I start with the day I received his email introducing me to Roberta. It morphs into a journal of a Covid-made ex-pat's year in Italy, watching the United States from afar.
November 3, 2020: I finish the story. It's Election Day in the United States.
****
To watch the performance of Sunday Afternoon in 15 Squares: An Embrace of Viola Farber performed by students at Accademia Nazionale di Danza, Roma, click HERE The video is password protected. Contact jeff@ladancechronicle.com to receive the password.
Student performers of Sunday Afternoon in 15 Squares and Theatre Piece for Chairs and Ladders: Roberta Abate, Francesco Bruno,  Lara Calienda, Maria Cardone, Antonino Filardo, Cora Gasparotti, Fabrizia Maddaloni, Giorgio Mosavero, Giulia Nicoletti, Francesca Rapicano,  Erika Schipa, Federica Sola, Aurora Vetrito, Rosaria Vitolo, Yingia Yu, with Sarah Swenson.
[Note: This article was edited on January 13, 2021 to include changes and additions by the author.]
---
Written by Sarah Swenson for LA Dance Chronicle.
Featured image: Students at Accademia Nazionale di Danza, Roma in Sunday Afternoon in 15 Squares – Choreography by Viola Farber