This article was written by Andrew Choreographer and first appeared on his FaceBook page on September 17th in celebration of Mexico's Independence Day, an armed conflict, and the culmination of a political and social process which ended the rule of Spain in 1821 in the territory of New Spain.
Hello Everyone. Happy Independence Day Mexico.
Mr. Montalbán worked hard throughout his career in the entertainment industry. From small roles to well known roles in his homeland Mexico and the United States of America. The follow quote by Mr. Montalbán demonstrates his attitude and work ethics to each role he took on.
"Ask not what the role can do for you; ask what you can do for the role."
Ricardo Montalbán and Cyd Charisse in Fiesta, 1947, performing, "Jarabe Tapatío – La Bamba."
Choreographer: Eugene Loring.
Assistant Choreographers: Sally Forrest.
You may remember Ricardo Montalbán from the TV Series Fantasy Island. This talented Mexican Actor had already made his mark in the entertainment world, spanning a 60 year career from his home country in Mexico to Broadway, Hollywood, and TV.
Mr. Montalbán was born November 25, 1920, in Mexico City, Mexico. By his teen years, he had moved to Los Angeles to be schooled.
Mr. Montalbán was a song and dance man from his early days growing up in the United States of American. Although his work would predominantly be from Acting, there was opportunity to dance alongside with some Hollywood greats.
Mr. Montalbán made his New York stage debut in Her Cardboard Love, 1940, alongside Tallulah Bankhead. However in 1941, he returned to Mexico due to his Mother's declining health.
Whilst in Mexico he worked in the Mexican film industry with over a dozen movies to his name. These opportunities lead to Mr. Montalbán becoming a movie star in Mexico. Not long after his popularity in Mexico, along with his ability to sing and dance, this helped gained the attention of the MGM Studio.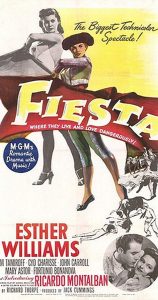 Whilst in discussions (1943) with Hollywood studios and at their suggestion, they wanted to change Mr. Montalbán's name to Ricky Martin. It was a strong desire to keep his name and heritage, he was not about to budge on this point and it may have cost him some very important projects at the time.
Mr. Montalbán would go on to work with Cyd Charisse, Esther Williams, Anne Bancroft, and Debbie Reynolds including may other talented Artists.
Mr. Montalbán made his Broadway debut in 1955 in a musical "Seventh Heaven" alongside Gloria DeHaven, Kurt Kasznar and Bea Arthur.
Mr. Montalbán had a big break, landing his first major Hollywood film, Fiesta, 1947. As a song and dance man, Mr. Montalbán may have not been specifically a trained dancer.
However Mr. Montalbán charisma, looks, hard work and talent, shines through in his on screen performance.
Sadly on January 14, 2009 Mr. Montalbán died aged 88 years at his home in Los Angeles.
Did You Know?
Mr. Montalbán also worked hard in fighting for the rights of Latinos in Hollywood. Besides being the Founder, he also served for nearly 20 years as President of Nosotros Organization.
Three Broadway Credit, Seventh Heaven, 1955. Jamaica, 1957. Don Juan in Hell, 1973.
Mr. Montalbán has over 250 credits for appearances in Film and on TV. Such as, The Kissing Bandit, 1948. – Neptune's Daughter. 1949. – Star Trek II: The Wrath of Khan, 1982. The Ed Sullivan Show. – The Jerry Lewis Show. – The Tonight Show Starring Johnny Carson.
In the 1960's Mr. Montalbán toured as the King of Siam in The King and I.
Mr. Montalbán wrote an autobiography in 1980, "Reflections: A Life in Two Worlds."
Honors/Awards:
1978 Primetime Emmy – Won – How The West Was Won, 1976.
1958 Tony Award – Nomination – Best Actor in a Musical – Jamaica, 1957.
Video, click here.