Like every person, every business, every online magazine that focuses on covering the arts, LA Dance Chronicle has been learning to cope with the ever-changing situation caused by COVID-19 and the stay-at-home mandate ordered by Governor Newsome. Our writing staff has put their virtual heads together to come up with dance related articles for our readers.
Joanne DiVito's idea to have dancers write about events in their career or about anything else dance related was one such idea that immersed from this brainstorming via email and cellphones. Our first contribution to LADC's new series "Stories From the Inside" is a wonderful poem written by dancer/choreographer Sandy Roveta is the first of what we hope will be a series of dancer written articles.
Roveta was very young when she moved to New York City and it was not long before she became one of the most sought-after triple threats (dancer/singer/actor) on Broadway.
This poem is written and read by Roveta while receiving the coveted Gypsy Robe Award in 2017. It is an honored bestowed on a long list of dance luminaries that includes Jack Mattis, Joe Tremaine, Alan Johnson, Dolores Nemiro, Sonya Haney, and LADC's own Joanne DiVito.
"Ode to Senior Dance Class" By Sandy Roveta @ April 25, 2018
The warm up is simple, it flows with some ease.
But no grand pliés, if I want to save my knees.
In spite of arthritis, the feet sort of point.
But turn out is gone, due to tears in hip joints.
My balance is iffy, because of my back.
But my port de bras seems to have stayed intact.
The stretches and floor work are OK at the start.
But the hips and pulled hamstrings insist that I mark.
The combination's great with music that inspires.
But the brain functions slower, so more time is required.
But regardless of pain and issues that limit.
My ass is in class and I love every minute.
I'm eternally grateful I've been given the chance
To soar like an eagle and still dance, dance, dance.
Sandy Roveta's bio compiled by Joanne DiVito:
Armed with early dance training in San Mateo and San Francisco, plus a season of summer stock in Sacramento, teenager Sandy Roveta took a job at Joseph Magnin, saved her money, bought a plane ticket and trunk, then flew off to New York.  She soon found herself employed in a number of musicals from Broadway's Golden Age.  (The Music Man, La Plume de Ma Tante, The Unsinkable Molly Brown, Nowhere To Go But Up, Wildcat, Here's Love, Subways Are For Sleeping, Ben Franklin in Paris and the City Center revival of Finian's Rainbow).   She also found work in Variety television on shows like Sing Along with Mitch, Kraft Music Hall, and The Ed Sullivan Show.  The director/choreographers she's worked under include Michael Kidd, Herbert Ross, Alan Johnson, Ron Field, James Starbuck, Peter Gennaro, Marc Breaux and Dee Dee Wood, Marc Hertsens, Tony Mordente, Larry Fuller, Kevin Carlisle, tony Charmoli, Joe Layton, Carl Jablonski, Jaime Rogers, Tom Hansen, George and Ethel Martin, Joel Grey and Joel Paley. 
While appearing on Broadway, Sandy honed her singing and acting skills with noted New York Teachers, acquired an agent, and had triple-threat roles in regional theaters (Damn Yankees, Sweet Charity, Allegro).  Hollywood beckoned with Bob Fosse cast her s one of the iconic Big Spender girls in the film of Sweet Charity.  Soon after, Michael Bennett invited her to join A Chorus Line  as Cassie.  After a break-in date in Toronto, Sandy (in the classic red leotard and matching chiffon skirt) opened the London production at the Drury Lane Theatre.
Back in the U.S., she made guest appearances in television series (Kojak, Laverne and Shirley, Charlie's Angels) AND FILMS (The World's Greatest Lover with Gene Wilder, and Mel Brooks' Dracula: Dead and Loving It.) Sandy toured in straight acting roles (Stepping Out, The Odd Couple, Just For Laughs).  In nightclubs and concerts she's appeared with Joel Grey and Tommy Tune.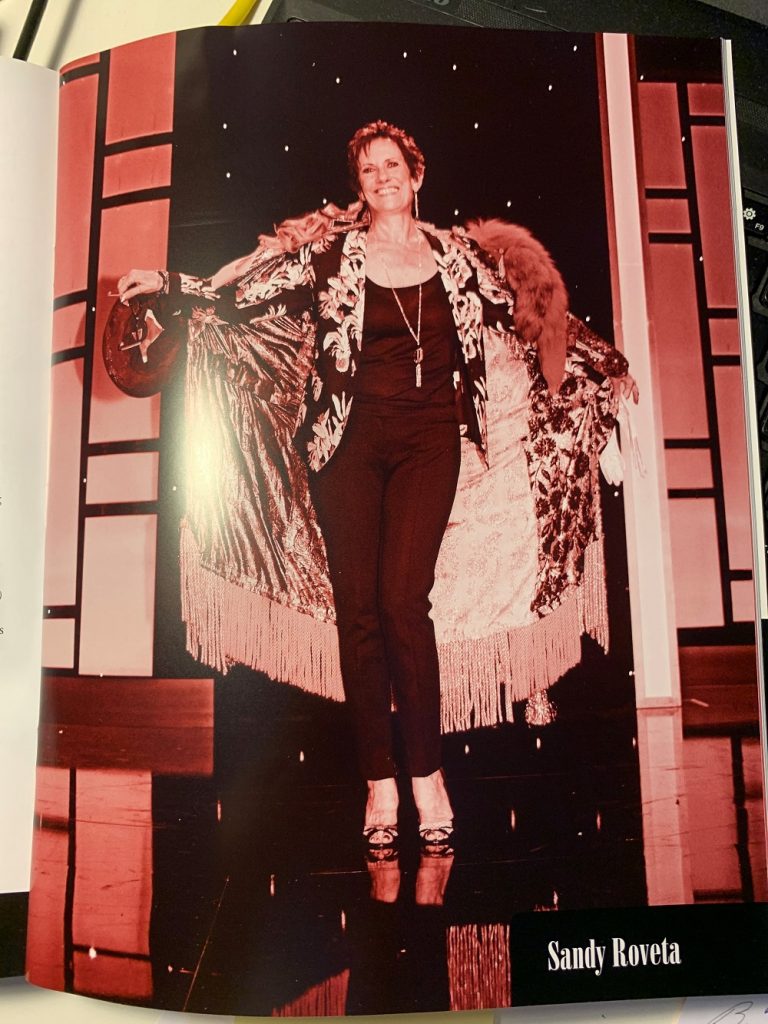 Based on her background and experience, Sandy began assisting many well-known director/choreographers and was Walter Painter's assistant on the Broadway production of City of Angeles.  In recent years she's staged and directed innumerable productions of her own; and, combined with her church and charity work, Sandy still finds time to run a successful organizing business.  This girl is more than multi-faceted and is a testament to the durability and versatility of dancers.  If you're really lucky she'll bestow the fabulous Gypsy Robe upon your shoulders today.
Written and compiled by Joanne DiVito and Jeff Slayton for LA Dance Chronicle, March 27, 2020.
Featured image: Sandy Roveta as Cassie (third from left) in the London Company production of "A Chorus Line" – Photo courtesy of the artist.