On August 7, 2021, at 4:30 pm (PDT) 7:30 pm (EDT) , James MahKween will present F.E.M., a fundraising performance streaming on Zoom via his Instagram and Facebook pages. The web link to view F.E.M. will open 30 mins prior to the performance and donations of $5 to $10 are encouraged. F.E.M. will feature artists Jasmine Josey, Pearl Scott, Abron Suttles, Jez.who, Tasheena Medina, Khiantaey Watts, Queen Sam, LaTrice Postell, Yoli, Terri Woodall, and James MahKween.
After reading on his Facebook page that F.E.M. is a fundraising performance for his production CAT CALL, I'm Not Yours to Call on Friday & Saturday September 10 & 11, 2021 @ 7:30 pm and Sunday, September 12, 2021 @ 2:00 pm, I wanted to know more.
JS:  What was the genesis of CAT CALL and F.E.M.?
JM:  "I've always had conversations with my female friends about different experiences they've had dealing with cat calling and I thought about my own experiences as well and I felt that this was a conversation that needed to be had. So I decided to create a show that offers  Healing, build connections, break the chains of toxic masculinity and to reclaim/empower the female energy or women!"
MahKween explained how CAT CALL was originally created as a single show but in order to generate the necessary income to fully produce the project, he came up with the idea of a mini version of CAT CALL, titling it F.E.M. (Feminine Energy Magnified).  "It's a variety show, so it gives all artists an opportunity to present work focusing on feminine energy/empowerment!," MahKween said.
In an interview with Paris Barraza (September 28, 2020) for the California State University, Long Beach Daily Forty-Niner, MahKween stated that he began creating CAT CALL after hearing stories from his close women friends regarding their experiences with sexual harassment. He told Barraza that he was raised by, taught by and mentored in the dance industry by women.
"I am a feminist, a womanist. I don't believe in slut shaming or anything like that. You live you," Mahkween said. "I just really wanna show my appreciation and know that they know they got a strong person, a man who has their back, though I do have my days where I have feminine energy, so also I'm speaking for myself."
After receiving a B.F.A. at The American College of the Performing Arts in Los Angeles, MahKween began studying dance with the incredible Lula Washington and soon found himself performing with and choreographing a new work for her company, the Lula Washington Dance Theatre, and later for Eternity Dance Theatre. Since that time, MahKween has continued to choreograph new works, to provide opportunities for inspiring choreographers and to perform with Pat Taylor's JAZZANTIQUA DANCE & MUSIC ENSEMBLE and as an independent choreographer and dancer on numerous festivals throughout southern California. MahKween is the founder of The MahKween Method.
In a different interview for VoyageLA, MahKween said, "I call myself an ARTSPAZ, I do several things based around the arts. I'm known for my fashion, dance, choreography, my showcase I produce, photography, educating the youth, and modeling."  He told the interviewer that his dream was "to develop a recreational center or a high school or college for all sorts of arts".
WHAT: F.E.M. (Feminine Energy Magnified) – A fundraising performance for CAT CALL, I'm Not Yours to Call.
WHEN:  August 7, 2021, at 4:30 pm (PDT) 7:30 pm (EDT)
WHERE: On Instagram and on Facebook.  The web link to view F.E.M. will open 30 mins prior to the performance.
TICKETS: Donation of $5-$10 can be sent via Venmo @james-mahkween
CashApp: $Mahkween.  Email:  mahkweenmenthod@gmail.co  to receive secure and password protection link!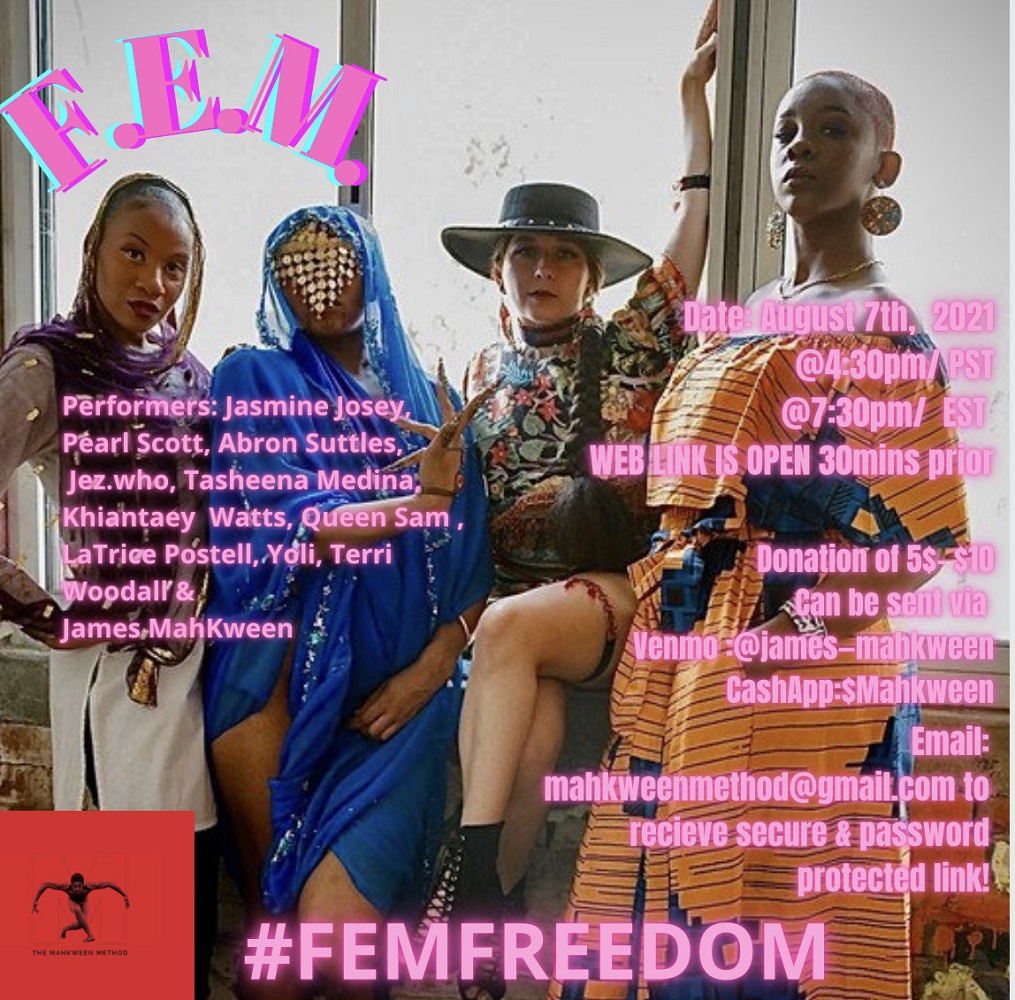 ---
Written by Jeff Slayton for LA Dance Chronicle.
Featured image: Cast members of F.E.M. – Photo courtesy of James MahKween