Ballet Etudes is an Orange County based youth ballet company made up of students at the Huntington Academy of Dance, founded in September 1997 by directors Marnell Himes and Muriel and Gary Joyce. Emergent Dance Company was created in 2014 as a spring board into the professional dance arena for the amazingly talented alumnae of Ballet Etudes led by Artistic Director and Choreographer Megan Pulfer. On Saturday, October 22, 2022 at 7:00 PM Emergent Dance Company will present its Premiere Gala Performance at the Rose Center Theater in Westminster, California. The evening will include an art gallery showcasing the work of visual artist  Joyce Legate, several works created by Pulfer, an excerpt of a new work, Mythology of Self, by Los Angeles based choreographer Laurie Sefton, and more. Tickets are on sale now.
Pulfer began her dance training at the Huntington Academy of Dance and at the young age of 16 was accepted to study ballet at the prestigious North Carolina School of the Arts in Winston-Salem. She has performed with Cedar Lake 2, Missouri Contemporary Ballet, Quixotic, a year with Kibbutz Contemporary Dance Company's Dance Journey program, and two years with Kamea Dance Company in Beer Sheva, Israel.
I first saw this extraordinary dancer/performer after she had returned to California and was performing with Clairobscur Dance Company, now rebranded as Laurie Sefton Creates.  Frankly, when Pulfer was onstage it was difficult to see anyone else. Emergent Dance Company (known familiarly as Emergent) and Pulfer's powerful choreography drew my attention in 2019 when the company performed 99.5 at the OC Dance Festival and again at the Los Angeles Dance Festival.
Pulfer and I recently met on Zoom for an interview to discuss her company's upcoming gala performance and as a chance for me to catch up on her second career as an Interior Designer at Harte Brownlee & Associates.
"Ballet Etudes is a youth ballet company that I grew up dancing in," Pulfer said. She was 11 years old when it was formed and remembers being the first Clara for Ballet Etudes' The Nutcracker which the company continues to present annually.  It also puts on smaller productions for its teenage dancers as a way to cultivate and nurture their talents.
When Pulfer returned from performing in Israel, Ballet Etudes director Kimberly McEachern came to her and stated that one of the company's long-time goals was to house a professional dance company under the umbrella of Huntington Academy of Dance and Ballet Etudes. McEachern added that she wanted Pulfer to become the artistic director and choreographer of that company with Ballet Etudes acting as its fiscal sponsor. After recovering from the initial shock of being offered leadership of a fully funded company, Pulfer agreed to the position and Emergent was born. Pulfer and the dancers receive a small salary and meet regularly for rehearsals when her career as an interior designer permits.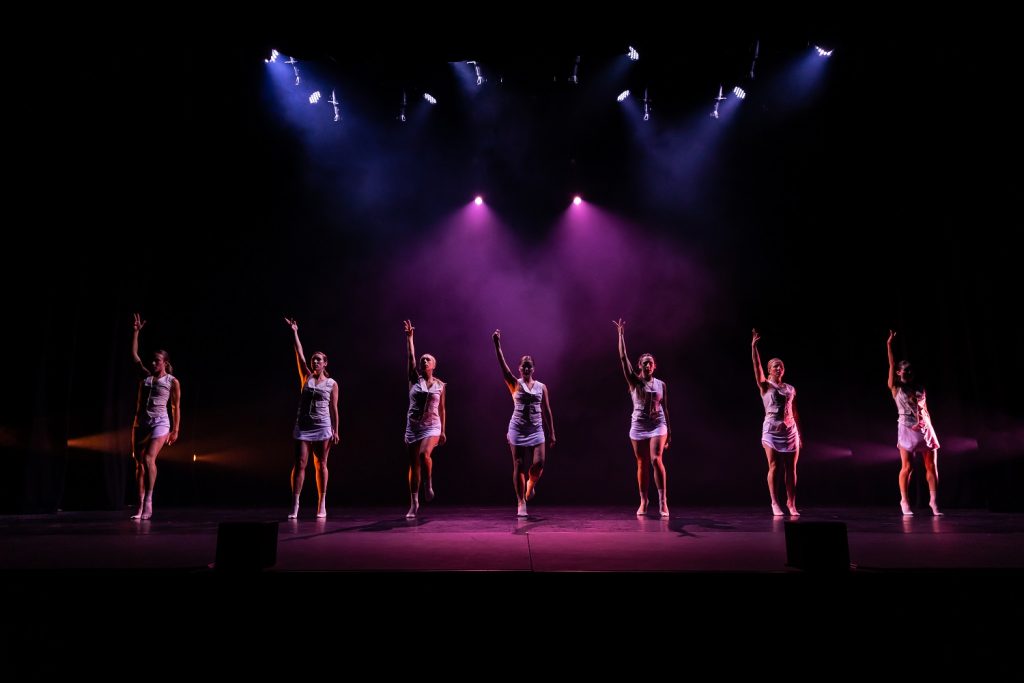 Referring to the academy and Ballet Etudes, Pulfer explained, "We produce very talented dancers and a lot of us have gone off to professional companies, but when we started many were still hanging around Orange County that didn't have a lot of performing opportunities with a lot of merit. We geared the company to be for alumni of Ballet Etudes, but of course we opened it to other dancers around Orange County."
The first work that Pulfer created for Emergent was titled Instinctual which performed at different dance festivals throughout the area. That dance and one other that she choreographed in 2014 have been remastered for this present company and will appear on the gala. When she began reworking the older works, Pulfer was amazed at how far she had grown as a choreographer. She was also concerned about how she was going to manage the small number of Emergent dancers performing all the scheduled works. To solve the logistics, Pulfer created a temporary second company to perform the earlier works while the main company members will dance the four more recent pieces. This allowed her to better program the evening concert and not cause harm to the dancers.
Although this is their ninth season, the gala will be Emergent's inaugural full evening of the company's repertory. "Even as a choreographer," Pulfer added, "it is a huge milestone for me as well."
Because Pulfer works as both a choreographer/artistic director and as a full time interior designer, I asked her if either of these occupations influenced the other. She explained that when she was in design school, her choreography did affect her designs. "We were learning basic principles of design and about balance, scale and harmony," she said. "I did realize that there is a lot of symmetry involved with both artistries, but dance mostly helps me in design than vice versa. Because as a dancer who was very aware of my surroundings and super in tune, I am very spatially aware also of interiors. I can imagine how it feels to walk through the interiors of a home and feel when a space is too tight or this isn't in proportion."
One unique thing that Pulfer has done is to hire a journalist, Jordan Nishkian, also an alumni of Emergent, to create the program for the gala. "She is helping me produce a small book," Pulfer said, "a 76 page bound book printed with all of our material, lots of pictures and its nicely designed. With each piece of mine she has incorporated a poem or artistic journal theme that correlates with the piece."
An art gallery will be set up in the lobby of the Rose Center Theater featuring the work by visual artist Joyce Legate. Pulfer thinks of the book and the art gallery as yet another facet of her bringing in and supporting artists of every medium to complete an inspiring evening for those who attend the gala.  "I want to produce an elegant evening for our patrons," Pulfer said. "You can come in, grab a glass of wine, and walk around, look at art, and experience a live dance performance." The artwork is also acting as a fundraiser with a small percentage of the sales being donated to Emergent. Legate is also donating several complete works for the company to sell.
Like all artists, Pulfer's dances are inspired by a wide range of subjects and she creates dancers to a variety of music genres. A few that she takes on for the gala are how diverse we all are and exploring ways of accepting one another. She looks at the "consistency of time and the conundrum of how it can make us feel"and whether or not one chooses to stay and fight or to take flight during a challenging situation. She titles her pieces that evoke emotions and/or ideas such as Avoiding Change and Instinctual.  The composers whose music Pulfer has choreographed to include Nick Pethtel, Max Richter Orchestra & Lorenz Dangel, Ludivico Einaudi, Travis Lake and others.
As guest artist, Pulfer has included an excerpt from one of her mentors, Laurie Sefton. Mythology of Self is a multimedia work featuring dancers from her company; mezzo soprano Carmen Voskuhl vocalizing music by Victoria Vasta; a photographer, Skye Schmidt, taking pictures while moving though the performers; and a visual artist sitting onstage manipulating Schmidt photos and projecting them instantaneously onto a screen.
As a choreographer, Pulfer stated that she has been very inspired by working with Sefton and by the extraordinary work she has created over the years. "I feel that Laurie's piece is a great compliment to my work," she said.
Pulfer's newest work I Think It Is Right (2022) is performed to music by Travis Lake. She began creating this work in 2018 and was inspired by the "me too." Movement that helped expose or bring light into how women are treated in the workforce. Sadly, the pandemic caused many to forget about that movement. "But I still felt that I wanted to produce a piece about women and how far we've come over the centuries," Pulfer stated, "and yet we're still fighting for equality. We just want to be treated equally to men. Equal pay treatment and like stop touching our asses at work!"
I Think It Is Right is very significant for Pulfer and her feelings regarding its importance were justified when the work premiered in May of this year at the Orange County Dance Festival. This was the same week after Justice Alito's draft opinion was leaked about the Supreme Court possibly overturning Roe vs. Wade occurred.
"That performance," she began, "with our message strung in it – I was sitting in the audience with a friend and she was just bawling with uncontrollable sobs." Other women around her were crying and the piece invoked a lot of finger snaps from the audience to express their approval and respect for the subject matter. The second performance brought a similar reaction from the audience and Pulfer saw young teenage girls watching the dance from the stage wings. "Teenage girls are now growing up with Roe vs. Wade being overturned," Pulfer continued, "and it's a stab to women. It's a stab to the younger generation. We don't have a say, and now doctors are scared to treat us. It is a very terrifying and worrisome time of our lives with these rights being taken away."
Pulfer wanted this new work to include a strong woman's voice from a speech, her research led her to a speech about equality that was delivered in 2016 by Emma Watson. Pulfer felt that Watson's speech fit perfectly with her ideas and she has incorporated it into the dance. Because of its huge and inspiring message,  I Think It Is Right will close the evening.
Pulfer has plans for the company's future which include more direct funding and the time for her to create longer works, ones that are not designed to fit the time constraints of dance festivals. She is a hard working and intelligent woman, and if anyone can accomplish those goals, it is Megan Pulfer.
#####
WHAT: Emergent Dance Company Gala Performance
WHEN: Saturday, October 22, 2022 at 7:00 PM
WHERE: Rose Center Theater, 14140 All American Way, Westminster, CA 92683
TICKETS: VIP Admission: $45 – General Admission: $30 – To purchase tickets, please click HERE.
All ticket sales are final. Refunds are not available. Every guest must present a ticket to enter the theater and view the performance.
If you would like more information about our Gala Performance please contact Megan Pulfer at
714-313-8745 or by email at emergent@balletetudes.com.
To learn more about Emergent Dance Company, please visit their website.
---
Written by Jeff Slayton for LA Dance Chronicle.
Featured image: Emergent Dance Company – Photo by Jazley Faith